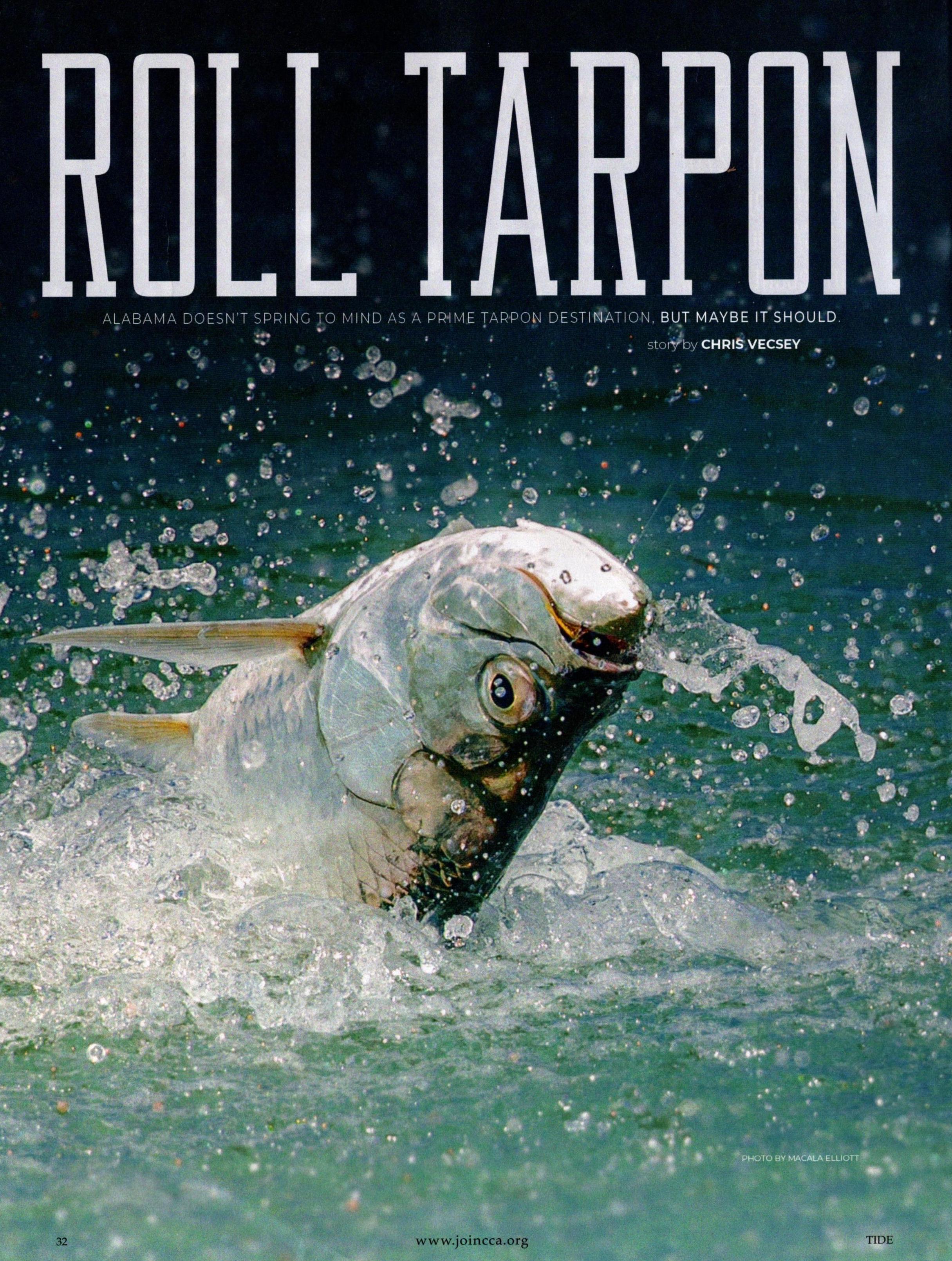 ROLL TARPON - by Chris Vecsey TIDE Magazine July/August 2021
Posted on January 20, 2022
When one thinks of a serious expedition after tarpon, destinations like the Florida Keys, the Everglades backcountry, and Homosassa come to mind. The sugar-white sands of Orange Beach rarely enter consideration but perhaps they should. The species and its usual haunts are marked on the bucket lists of countless anglers, but when the topic of location is discussed, Alabama is not on the list very often.

Despite the lack of recognition, tarpon was designated the state fish of Alabama in 1955 and later redesignated as the saltwater state fish to allow the Largemouth Bass to claim some glory as the freshwater state fish.
The majority of Alabama Tarpon anglers target adult fish as they migrate from southern waters through the spring. The first fish of the season arrive as early as mid March, when water temps are still hovering around the 69-70 degree mark. The majority will show up once water temperatures climb into the upper 70s, and that's when the fishing is prime. Usually, around the full moon in July, the fish will break from their west-bound mission and mill about off the beaches, often daisy-chaining and becoming lethargic. This is usually concluded by a temporary absence of fish as many head offshore to presumably spawn. Satellite tracks show these fish heading up to 160 nautical miles offshore in large numbers and then returning nearshore in only a few days time. By August, temperatures will be high along with the fishing pressure, and the run will begin tailing off, but Tarpon can be encountered off of Alabama beaches well into October. As fall sets in and the first major cold fronts descend, it will trigger a mass exodus of fish. Social media is often littered with videos of these fleeing fish from late October through early November as these massive fish head for warmer waters and their survival with it. When these fish head out, they rarely take a bait or lure but offer an amazing show as they roll over and over and often at high speeds.
Despite this yearly migration that has taken place since long before sport fishing's existence, the fishery has only gained notoriety in recent years, most likely from social media exposure. My personal experience with Alabama Tarpon started in the early 2000s, but even then there were very few people waiting for these incredible creatures to arrive. "I started fishing for Tarpon when I was in college in 1989-1990" says Hayden Olds, a well known and respected Tarpon angler in the area. "Robert Palmore, an employee with the Alabama Gulf State Park, took me under his wing and told me we were going to fish for something nobody else was really fishing for, and that started the addiction. There were very few boats, and everybody that pursued Tarpon knew each other." The lack of pressure made for some incredible action, and those within the "cult" rarely faced interference or crowding of any kind.
Connecting with the king
Beach run poons run big, averaging 70-80lbs with plenty exceeding the century mark. The state record stands at 203lbs caught by Billy Wildberger in August of 1992. While very few fish taken in local waters approach the 200lb mark, plenty in the 120-150lb range are caught every season. It goes without saying that tackle needs to be stout. Minimal fight times mean healthier fish for release. Tarpon can be harvested with the purchase of a tag through Alabama Marine Resources Dept. but given the lack of edibility and tremendous value as a sportfish, the greater majority are released to give future anglers the incredible experience.
The most popular choices for a rod and reel are large, spinning type setups. Reels that will hold at least 250+yds of 30lb mono or 300+yds of 50lb braided line are the norm. Rods need to be 7-8ft in length and fast to very-fast in action, with the ability to throw both live baits and large plastic swimbaits like the Hogy Protail. Leader material varies with preference, but I like to use Aftco 80lb fluorocarbon and circle hooks in sizes to match the prevalent bait species. Bait is usually acquired with sabiki rigs or castnets and often in similar areas to where you'll be fishing.
Finding fish is a matter of learning their "lines." Tarpon travel the beaches along preferred depths that can vary from school to school along with current conditions. Fish can be located by sight when they roll or by marking with side-scan depthfinders. Finding these lines and intercepting the migrating fish is the key to success. Boats may anchor or run-n-gun, but anchoring in place is the most common practice.
Once positioned, baits are usually suspended by floats and a rod or two ready with a swimbait to throw to rolling fish on the surface.
Once hooked up, it's critical to come off anchor quickly to allow maneuvering as needed. An anchor ball assists in a rapid release while marking your place upon release and return. Beating Tarpon quickly means using ample drag to tire them. I usually instruct anglers to pull on the fish "tip to tail" by pulling the rod low and hard in the opposite direction of the moving fish. This disrupts water flow to the fish's gills and wears them down quicker.
Once boated, proper revival is paramount. Keep the boat moving forward, and do not let go until the fish is swimming alongside as normal. DO NOT remove large Tarpon from the water. This is extremely harmful to the fish's organs and body structure. Keep them boatside for pictures and release promptly after reviving.
Another very important aspect in Tarpon fishing is etiquette. With more and more anglers on the water and given the intercepting style of fishing, feathers will be ruffled as boats line up for their shot at the king of inshore fish. Proper spacing and communication go a long way. I usually give any boats nearby at least a few hundred yards of room before setting up. This keeps fish from being cut off or tangled and to prevent spooking fish for fellow anglers. With a little bit of courtesy, there's plenty of room for everybody. Remember, these are migrating fish, and they can be found along the length of their route, from Cape San Blas all the water to Dauphin Island, so there's no reason to crowd.
Alabama's Silver Prince
Every body of water has its treasures, and perhaps the greatest treasure to Alabama's inshore waters is the sporadic abundance of juvenile Tarpon. While many are cashing in on the opportunities with larger fish off the beaches in the summer, the existence of their smaller offspring is usually only known through whispered conversations. Tight lips are the norm when baby Tarpon are brought up. I'm guilty of this to a heavy degree, but as many nurseries are exposed through social media, it's important that newer anglers understand the delicate nature of such ecosystems and the biology of the fish themselves. Tarpon are very slow growing and the eel-like, leptocephalus larvae they bear, runs a gauntlet of predation and fatal obstacles to find their early homes in the marsh and creeks. These fish take up residency for the first several years of life, rarely leaving one water system for another until they are big enough to migrate with their older and larger members. The life history for our juvenile Tarpon is scarce, so CCA Alabama recently introduced a tagging program for these younger fish. The information gained from these tags is priceless and could help us better understand their duration in local waters as well as their adaptability to our cooler winter temperatures. I have personally deployed several tags on our smaller, local poons and anxiously await the information we can gain from them.
The Birth of an Obsession
I often warn fellow anglers from embarking on their first trip for Tarpon because the worst thing that can happen is hooking one. Very few experiences in fishing compare to the fight of a Tarpon. It's an obsession I've tried to overcome for nearly 25yrs and the fever only progresses with each one I catch.
So gear up properly, respect your fellow anglers, apply ample sunblock, bring plenty of water and brave the summer heat. We are still months away from football season, but that won't be on your mind once you've danced with the silver king.
Chris Vecsey is a lifelong angler who grew up on Alabama's Gulf Coast and puts his extensive experience on the water to use and passes on that knowledge to fellow anglers at SAM'S Bait and Tackle in Orange Beach, Alabama. Reach out to him at SAM'S Bait & Tackle - 251-981-4245 or @cvecsey_fishing on Instagtram