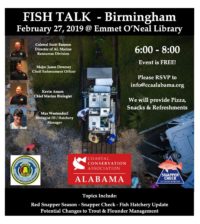 February 27, 2019
Join us for an informative discussion with the Alabama Department of Marine Resources and CCA Alabama. Topics include Snapper Season, Snapper Check, Fish Hatchery Update, and Potential Regulatory Changes for Speckled Trout and Flounder. MRD Staff includes Colonel Scott Bannon - Director of AL MRD, Major Jason Downey - Chief Enforcement Officer, Kevin Anson - Chief Marine Biologist, & Max Westendorf - Hatchery Manager. We will also hear from CCA AL State Executive Director - Blakeley Ellis with an update on all things CCA AL.

Pizza, Snacks, and Refreshments will be provided.

This event is free, but please let us know by RSVP to info@ccaalabama.org.