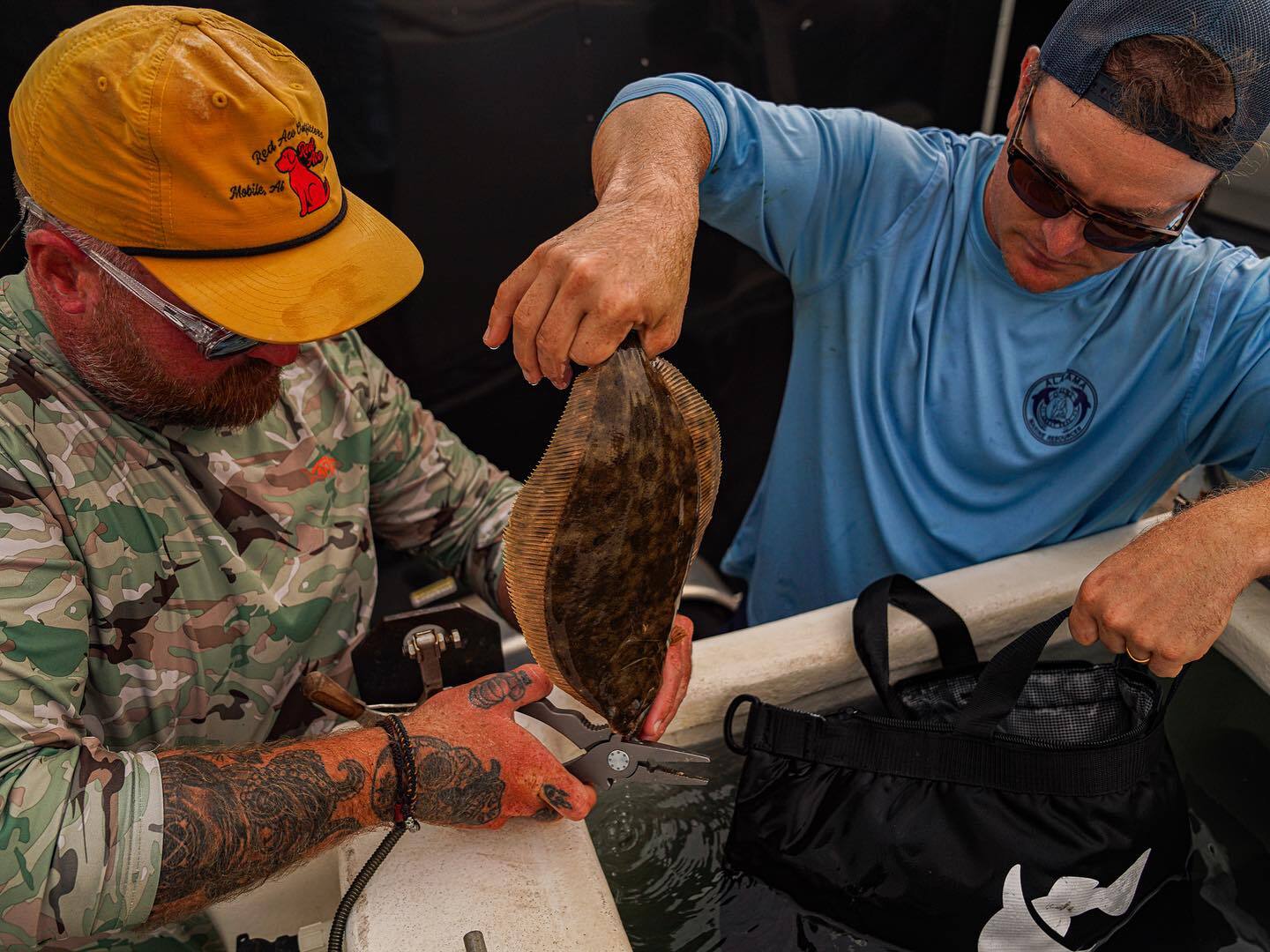 Over 100 Live Southern Flounder Collected for MRD Hatchery
Posted on September 27, 2023
Over 100 Live Southern Flounder Collected for MRD Hatchery
In August, CCA Alabama participated in the 6th annual SALTWATER FINADDICTS Inshore Championship in August to collect live southern flounder broodstock for use at the Alabama Marine Resources Claude Petite Mariculture Center in Gulf Shores. CCA AL sponsored the live flounder category and had another successful tournament with more than 100 live southern flounder turned in with the help of its corporate conservation partners DAIWA, ENGEL, BAJIO, AFTCO, TOADFISH, PROMAR, & BOGA Grip.
"Southern Flounder can be difficult to acclimate to a tank, and not all adult females reach spawning condition, which requires a large population of broodfish each spawning event," said Max Westendorf - Hatchery Manager AL DCNR. "Over 100 live fish were turned in this year, marking over 500 fish donated since the first year. This event makes the wheels on our Southern Flounder program go round!"
Prize packages for the live southern flounder categories included one for most live flounder turned in valued at $737, and the other package was a random drawing package where each flounder turned in = one ticket in the drawing, and its value was $1343. The 2023 "Most Flounder Turned In" went to TJ Bussie with 23 fish turned in, and the "Random Drawing" prize went to Matt Swiggum.
CCA Alabama has invested $250,000 into the Claude Petite Mariculture Center in Gulf Shores since 2019 and included upgrades and new equipment to allow the successful spawning of Southern Flounder. The AL MRD team has successfully released up to 100,000 Southern Flounder in coastal Alabama waters since 2020 and continues to improve each year.