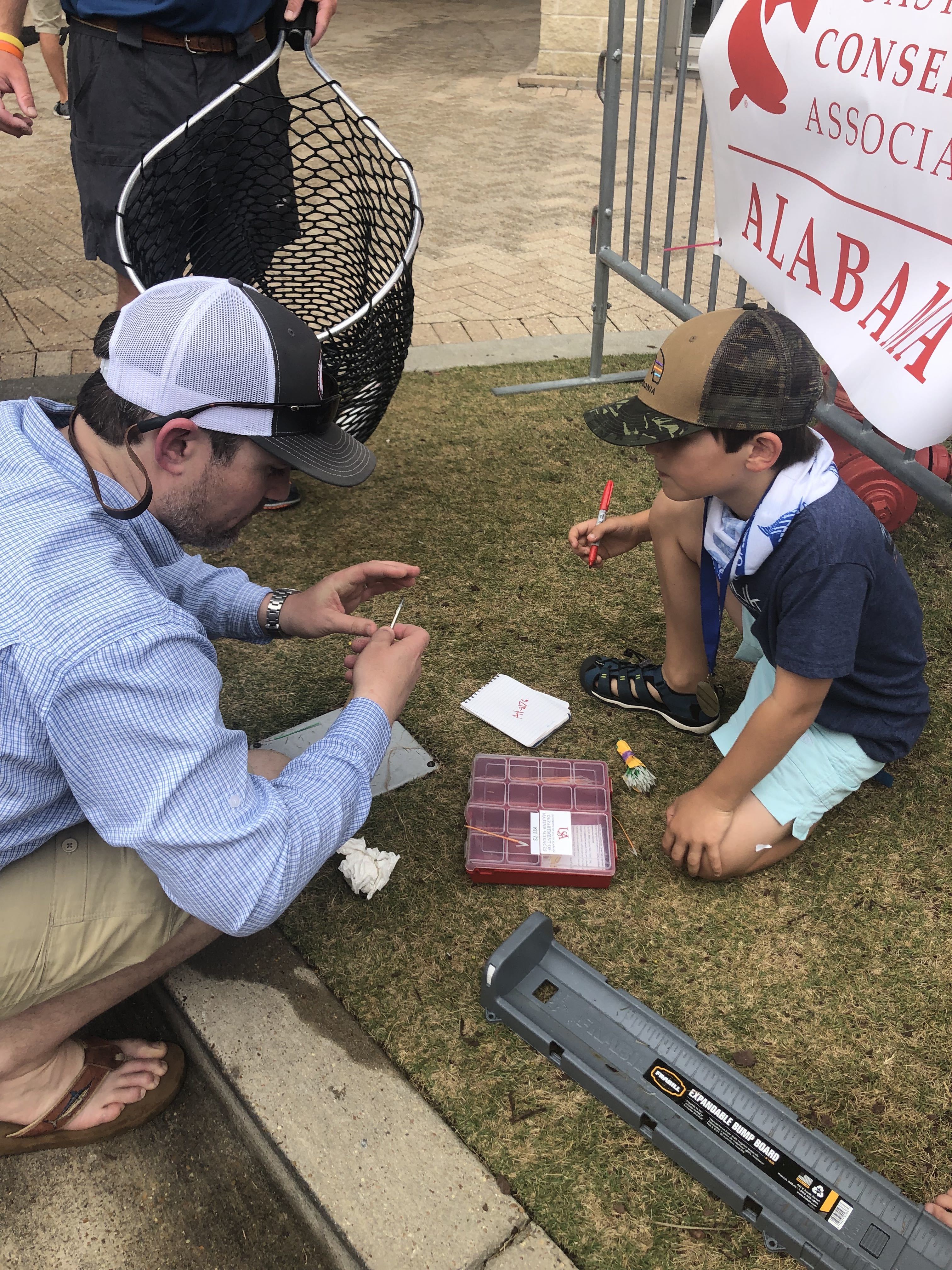 Conservation finds new fans at The Wharf
Posted on August 06, 2019
CCA AL continued its support of the "Kids Win at The Wharf" fishing tournament in April at The Wharf Marina in Orange Beach, AL. Over 150 Kids participated in the one-day tournament and through the help of our supporters like Frabill, Plano, and Zebco, each angler left with a CCA AL Bucket, and their choice of a Zebco Rod/Reel Combo, a Plano Tacklebox, or a Frabill Live Well Bucket lid/pump kit.
One major change to this years tournament was the addition of the live weigh-in category for Speckled Trout and Red Drum. The Saltwater Finaddicts Group brought their mobile saltwater tank and the fish were on display for everyone to see. The new category was a huge success and in total, CCA AL tagged 8 Red Drum and 6 Speckled Trout. "It was really fun to watch these kids get excited about the TAG AL program, the concept of Catch and Release" said Blakeley Ellis, CCA AL Executive Director, "One of our goals for the TAG AL program, was to use it to get the next generation of anglers excited about fishing and conservation".
It didn't take very long for the kids to start asking about the fish tagging and soon after they were helping to get the fish tagged and released back into the marina. One of those young anglers was Finn Bussey, from Orange Beach, AL "it was really fun tagging the fish, because when you tag your fish and someone else catches it then they call in the number on the tag, and you get to learn how big it's grown, and where it went after you let it go". Finn enjoyed the tagging so much that he signed up to be a tagger for the TAG AL program. "I'm going to start tagging fish this summer at my house, and hopefully someone will catch one of my fish and call the phone number"

"We received lots of positive feedback about the live catch category and even more people said they would participate next year, now that they know what to do". Said Beverly Morgan, Manager at The Wharf Marina "I am really hoping that some of these will be recaptured so that we can let all the kids know that one of their fish has been caught".
The TAG AL recreational tagging program was launched in 2018 as a joint effort between CCA Alabama and the University of South Alabama Department of Marine Sciences. If you would like to join the program, please let us know and we can get you set up to start tagging fish.