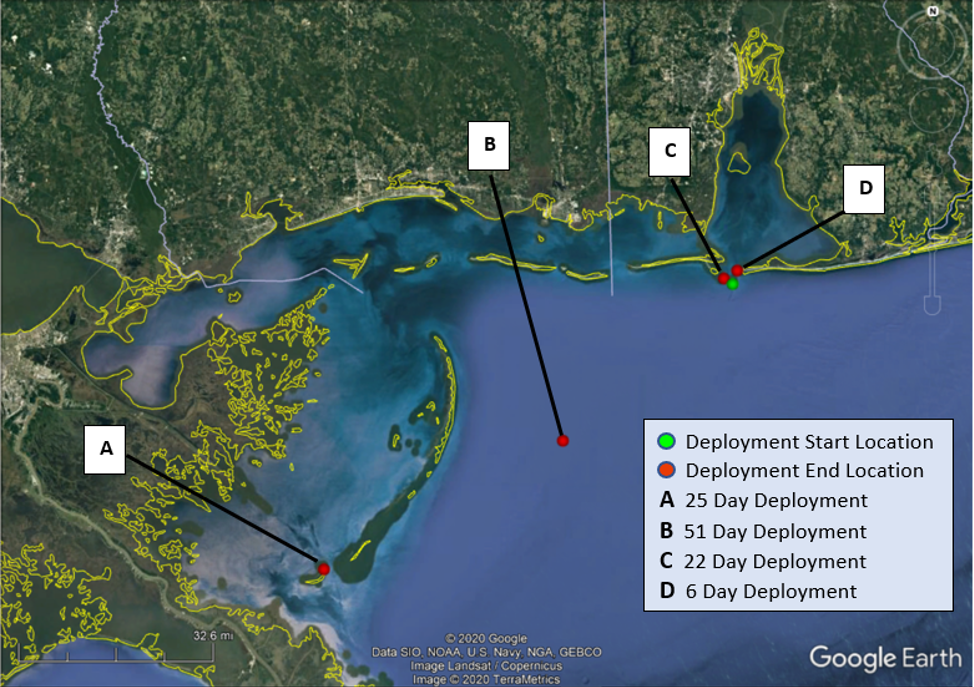 Cobia Tagging Research Update
Posted on April 24, 2020
Watch out for cobia tags – PHOTOS
CCA Alabama successfully deployed all four Wildlife Computers mini-PSAT tags funded by the state chapter on cobia last year thanks with the help of Capt. Richard Rutland of Cold-Blooded Fishing. The tags differ from our tarpon SPOT tags in that they are PSAT (pop-up satellite archival tags) that records information about speed, depth, temperature, and light for fish that do not stay on the surface, like cobia.
Collaborative efforts with Northeastern University PhD student Aubrey Foulk, have allowed researchers to investigate the movements of fish with light-based geolocation and the pop-up GPS locations. The data reveal that two fish were on a south to southwestern movement pattern, which is interesting because the fall migration of these coastal pelagics is historically eastward. The fish maybe eventually headed east or maybe they were headed to overwinter south of Alabama. We hope to have longer deployments this year to find out.
Researchers are excited about these preliminary data and with support from CCA Alabama, the plan is to deploy six more mini-PSATs on cobia this year. Researchers will also be tagging with green belly tags so anglers should be on the lookout and report tagged fish at tags.usouthal.edu or call 1-800-372-5950.